Dr. Kimberly Longobucco Ed.D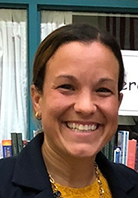 Dr. Longobucco has been in Newtown since December, 2016. First as an Assistant Principal and currently as the Principal of Newtown High School. While Dr. Longobucco oversees the entire school she is responsible for evaluating the nine Department Chairs, three Assistant Principals and the Special Education department. Dr. Longobucco is the committee chair for the Senior Capstone committee, the Schedule Search committee and the NICE Executive Board.

Prior to arriving in Newtown Dr. Longobucco was the Dean of Students at Fairfield Ludlowe High School. She earned her doctorate in Educational Leadership in 2017 from Southern Connecticut State University.